Company Overview:
The Mousetrap Theatre Company Inc. is Redcliffe Peninsula's premier little theatre company. From plays, musicals, comedies, cabarets to children's productions, you'll find a great night out at the Theatre at Mousetrap! Mousetrap is a community theatre run by dedicated volunteers and welcomes participation by members of the general public. Situated in the Redcliffe Showgrounds, on the beautiful Redcliffe Peninsula, come and experience live theatre in the cosy atmosphere of our 96 seat theatre.
Mission:
To bring affordable live theatre to the Moreton Bay Regional Council Community
Products:
Dramas, Comedies, Musicals, Pantomimes, Cabarets, Drama Festivals & Youth Productions
A Typical Calendar of events for the year
February/March - 3 Act Play
May/June - 3 Act play/Youth Production
June- Murrumba Drama Festival of 1 Act Plays
July/August - Major Musical Production
September/October- 3 Act Play
As well as above there are youth/workshop productions, cabarets and other social functions.
New members are always welcome and as well as actors & directors we are very keen to welcome people with following skills or would like to learn these skills-

set construction, scenery artists/painters, lighting & sound operators, costume/dress makers, makeup artists, musicians.
Members can keep abreast of our activities via monthly meetings, newsletters, Face Book & this website.
Mousetrap History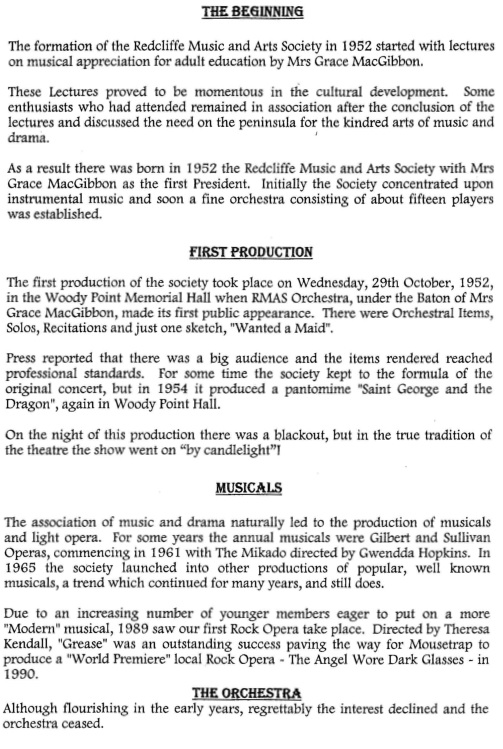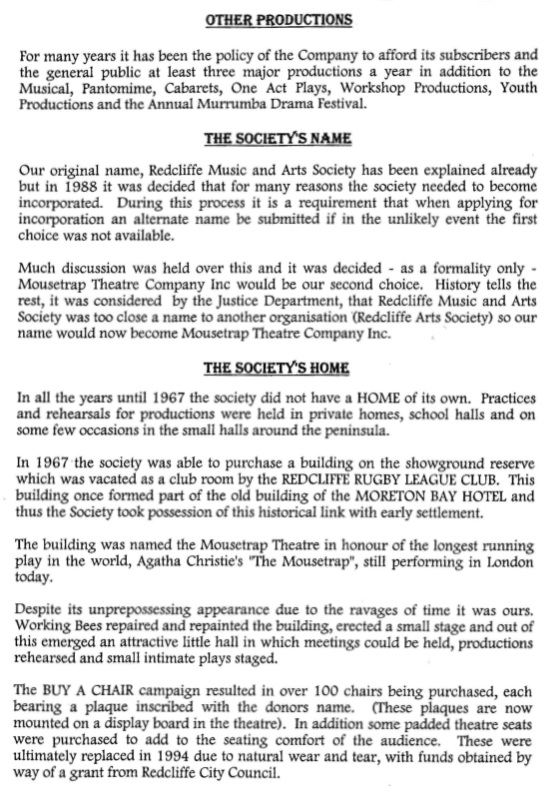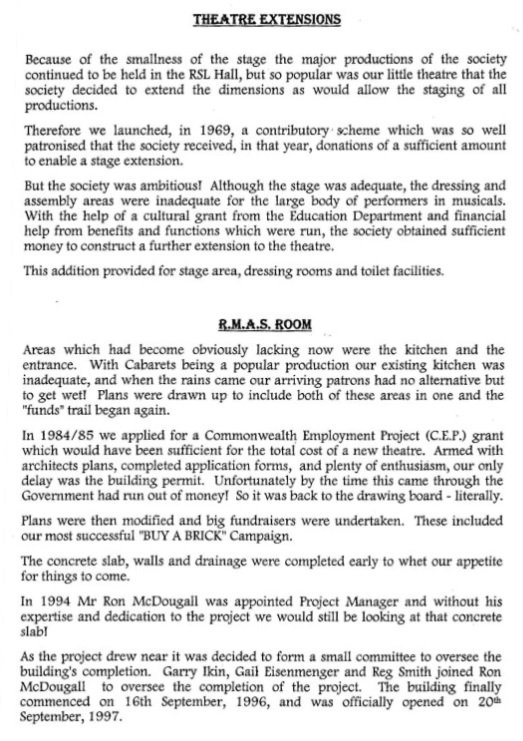 The Moreton Bay Hotel was situated at 75 Redcliffe Parade, a few hundred metres from the Jetty. The land was originally purchased by Anna Underhill in 1897. Five years later in 1902, Ebenezar Underhill built the Hotel, a two-storey wooden building in the front with a single-storey at the rear (Mousetrap Auditorium) and he held the licence until 1907.
In the 1950s the old building was demolished with part of it being retained and moved to the Redcliffe Showgrounds, where the Redcliffe Leagues Club used this section as club rooms. When the Leagues club built a new club house at the southern end of the showgrounds the building was acquired in 1967 by the Redcliffe Music and Arts Society which is now the auditorium of the Mousetrap Theatre.